There's something special about self-reliant kids. They have a can-do attitude and are always up for a challenge.
As parents of seven children now ranging in age from 32 down to 9, Dan and I feel strongly about encouraging independence in our children. Over the years, we've found many ways to introduce our sons and daughters to different self reliance activities.
If you're looking for simple ways to start teaching your children independence and problem-solving, and to be prepared to survive whatever the future brings, save this post.
Here are 30 self reliance activities your kids will love (and that you might even enjoy yourself)!
Estimated reading time: 18 minutes
30 Activities for Self Reliant Kids
These 30 activities will teach children valuable skills to help them do more for themselves. It includes indoor and outdoor basic living activities. And it also has skills and activities specific to living off the grid.
How to cook simple meals from scratch
Everyone has to eat, no matter where they live.
From about the age of eight, we challenge our kids to start creating simple meals from scratch. They learn to make toast, sandwiches and boil vegetables with a piece of meat or a mild stew.
When they're a bit older, we move on to following recipes from our favorite family recipe binders.
This teaches them about using vegetables in healthy recipes and how to select the right type of meat for the best flavors.
We've also had fun teaching our kids how to cook over a campfire, and even made a solar oven one year. (And we plan to try making a rocket stove as a homeschool science project this summer.)
How to do laundry
When my son Russell headed off to the University of Toronto many years ago, he was shocked to discover several of his housemates didn't know how to work the washing machine.
Seriously? He had to start doing his own laundry when he turned 11.
Now, we DO indeed have a traditional washing machine at our off grid home. And also a propane dryer which we seldom use.
However, I've also taught my kids how to do laundry without a washing machine. This comes in handy when we're camping.
How to mend clothes and sew on buttons
Sewing isn't complicated, though it can take some time, practice, and patience to get it right.
Plus, it's surprisingly easy and rewarding. Your children will earn healthy habits for caring for the things they own and have fun at the same time.
Also, sewing is a fun way to repurpose their clothes into quilts, tote bags, and other homemade crafts.
Five years ago one of my daughters (then aged 7) enjoyed a six-week homeschool sewing class. She learned how to thread a sewing machine and made a tabletop runner for her dresser as well as a Christmas cushion cover for her dad!
Start teaching sewing skills today as part of your homeschool or weekend activities as an excellent start to helping your kids foster self-reliance.
Basic first aid
Teaching basic first aid to kids is a critical self reliance activity for kids.
Basic first aid skills can help children deal with minor injuries quickly and efficiently. And it gives peace of mind to parents, knowing their kids know how to react in an emergency.
Start with the basics, such as cleaning a wound, dealing with cuts and bruises, or dealing with a nosebleed.
With this knowledge, kids will feel confident to take charge of their own well-being and be prepared for anything that comes their way.
For older kids, look for a local Red Cross basic first aid in-person class.
Herbal remedies
As part of teaching our kids self-reliance, I introduce them to basic herbal remedies used by the indigenous people in our area.
Learning about herbal medicine and remedies is a great way to get them involved in their own health and well-being. As one of our daughters was diagnosed with Juvenile Idiopathic Arthritis at age four, we're always looking for natural treatments to supplement and reduce her reliance on Western medicine.
Together we forage for medicinal plants like wild mint, sage, and chaga.
Herbal remedies can also be an effective way to treat minor ailments without having to rely solely on traditional medicine, making it the perfect activity for families with children that are interested in natural healing.
Wilderness survival
Wilderness survival is essential for children living off the grid in remote areas.
And it's important for anyone who wants to be truly independent and self-sufficient.
By teaching kids the basics of finding food, shelter, and water in a natural setting, they can gain confidence in their ability to care for themselves outdoors. They can learn how to outfit and use everything in their wilderness survival kits.
And with the guidance of experienced adults, through forestschooling or via an online class through Outschool, our kids have found that learning these skills can be both fun and educational for preparing them for any outdoor adventure.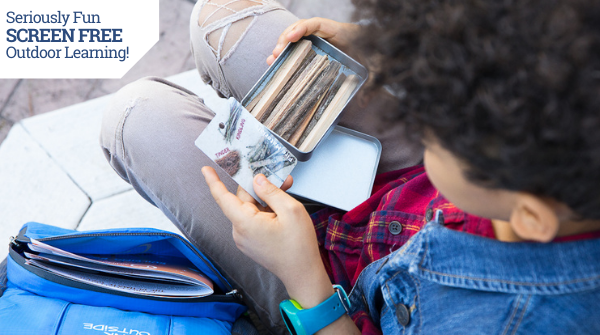 Basic problem solving
Teaching kids problem-solving skills is the most crucial part of raising self reliant kids.
Problem-solving gives children the confidence and tools they need to tackle any situation head-on, no matter how difficult it may seem.
Problem-solving includes learning how to gain the knowledge they need to complete a task.
And also understanding different approaches to tackling a challenge plus working through alternative solutions.
Honing problem-solving skills gives children the courage they need to find the answers they seek and be self-reliant in any situation.
Navigation skills
In our neck of the woods, learning navigation skills outdoors is about more than self-reliance; it's about survival, even for kids in today's modern family.
Each spring, we grab our Think Outside Boxes Navigation Box and head out the door.
Teaching kids how to use a compass and a map and find their way in unfamiliar areas can help them become more independent.
This gives children the confidence to explore further afield and equips them with essential life skills that they can use in various situations and environments.
For example, we took several family trips to New York City many years ago when we lived in southern Ontario. Now, this was long before phone apps and GPS were a thing.
Two of our then-teenagers learned how to navigate the subway system by following the posted maps from the airport right into Manhattan. Boy, were they pleased with themselves.
Hunting and fishing
Hunting and fishing are popular outdoor activities in our area, but we believe they're also important skills for self reliant kids.
Introducing children to these activities early on can be a great way to help them develop confidence that they can provide their own food should they need to.
Teaching kids the basics of hunting and fishing can also provide practical knowledge to prepare them for any outdoor adventure.
In Canada, as per the RCMP site, anyone aged 12 or up can take the Firearms Safety Course and get a gun license.
Children under age 12 can take the course for education purposes only. We've also seen an uptick in interest in bowhunting and archery for kids all across Canada.
With the right guidance and safety precautions, kids can quickly learn the basics of hunting and fishing with an experienced adult and gain valuable life skills.
Packing a Go-Bag
In recent years, our family has become more aware of the importance of self-reliance and preparedness for…. well, any situation.
Between economic, political, and climate shifts, we see many reasons for teaching kids how to pack a 'Go-Bag.' Fire, natural disasters, and man-made situations, your kids should know about go-bags.
Go-Bags are kits of essential supplies such as food, water, first aid items, and other emergency gear which should be kept in an accessible place at all times.
By teaching kids how to pack and maintain their own Go-Bag properly, they will be able to take charge of their safety and preparedness in an emergency.
Through simple steps such as adding extra batteries or a flashlight, kids can learn how to become self-reliant and remain safe during any potential crisis.
Finding or making fresh water
When learning to be self-reliant outdoors, one of the most important skills children and adults should learn is finding or making fresh water.
To teach kids this skill, adults should start by explaining where and how to look for potable water sources in nature, such as nearby rivers and lakes.
Next, they can introduce activities like collecting rainwater, boiling water to kill bacteria, and making a solar still to create their own clean drinking water.
With guidance and practice, these activities can help kids become more confident in finding or creating fresh water outdoors.
Maintaining hygiene
It may seem too basic for this list, but to be truly self-sufficient, kids need to learn how to maintain basic hygiene without standard amenities of today's modern world.
This means showing them how to stay clean without running water, soap, or a shower.
Fortunately, plenty of creative solutions for off-grid hygiene can help children stay clean and healthy while learning vital skills like conserving water.
For example, activities such as using ash in the place of shampoo.
Finding alternatives to toilet paper.
Or even creating body scrubs with natural ingredients can teach kids to be self-reliant and independent.
Food storage
Food storage is another key component of self-reliance.
This allows families to stock up on essential supplies to use in times of need.
Teaching kids food storage basics helps them understand why it's important to preserve food properly and how to do it.
From preserving eggs for the long term to canning fruits and vegetables, there are a ton of activities that kids of all ages can take part in while learning the fundamentals of food storage.
Composting
Composting is an integral part of living off grid.
It helps to reduce waste and provides valuable nutrients to the soil.
Encourage your children to get involved in composting. This can help them learn about sustainability and how to practice it in their own lives.
From building a compost bin and learning about composting with worms to understanding the basics of hot composting, it's easy to start composting with kids.
Setting up a solar array
For the past ten years, we've owned a home that depends on solar power.
And a couple of years ago, we installed a brand new solar panel system.
Teaching older kids how to set up a solar array can help them gain an understanding of renewable energy.
They can learn about alternative energy sources such as solar, wind turbines, geothermal, and hydroelectricity systems.
They'll understand how to generate power for their future homes.
With some guidance (and safety precautions), children can learn the basics of solar technology.
Middle school kids and high schoolers can participate in activities like setting up photovoltaic panels or creating a solar water heater.
Exploring the endless possibilities of renewable energy with kids can also be educational and rewarding for parents and children.
Fire starting
I remember my dad teaching me how to start a fire without matches.
I never quite got the hang of rubbing two sticks together.
But my eight-year-old self was THRILLED when I lit some dry bark and moss on fire using a magnifying glass.
A few years ago, our girls learned how to use a flint and steel firestarter to start a fire for warmth outdoors.
And honestly, teaching kids how to start a fire for cooking outdoors and warmth is an essential part of raising self reliant kids who are confident in the wilderness.
It can be a fun and exciting experience but also requires safety precautions, practice, and patience.
Woodworking and carpentry
Woodworking, carpentry, and basic construction can be used for many useful applications in life.
Carpentry and woodworking are beneficial skills that promote self-reliance, problem-solving, and creativity. Sadly, it seems that far fewer kids learn this from their parents at home than they used to.
As an adult now in my fifties, I really wish I'd paid more attention to the work my dad and grandad did around the house.
As it is, the girls and I are looking for a good online class or course so we can learn how to DIY with wood at home.
Basic mechanics
Here is another area in which I fall woefully short as a teaching parent. However, I'm sourcing basic mechanics courses for high schoolers to use as part of our homesteading and homeschooling activities.
Honestly, I'll probably sit my butt down and learn alongside the kids. Because I really wish I could have troubleshot our diesel generator on my own when it conked out a few years back.
Homestead fiber arts
Self-reliance arts and crafts include quilting, knitting, crocheting, and weaving. And these are perfect for teaching kids how to create clothing and household items by hand.
These skills provide a sense of accomplishment and pride in one's work and help develop fine motor coordination, problem-solving skills, and patience for the creative process.
We include them as part of our off grid homeschool winter activities. I introduce them in the fourth and fifth grades when we're studying the history of Canada and North America.
Although some children as young as six or seven might have the manual dexterity to knit and crochet!
They fit very well into our days when we learn about the pioneers and settlers in Canada and the United States.
How to clean the house without chemicals
Nope, you don't need Scrubbing Bubbles for a clean toilet or Easy-Off Oven Cleaner to clean your stove and oven.
We teach our kids to clean without harsh chemicals.
Now, I am not the world's best housekeeper.
But I believe that keeping a clean house is much easier when children learn how to clean up after themselves when they're about two to three years old.
And I feel better about using all-natural ingredients for cleaners. Just in case an adventurous toddler wants to taste one.
For example, teach your child to wipe down a counter or tabletop with a soft cloth and vinegar. Give them an old toothbrush and baking soda to scrub faucets.
Cleaning the house with natural ingredients is a great way to give your kids confidence that they CAN keep their surroundings clean.
And by the way, I'm working on a recipe for an all natural pine cleaner made with pine needles. It should be up later this week.
How to grow food in a container
Gardening together is one of my favorite ways to teach children the valuable skill of self-reliance.
After all, it's incredibly rewarding experience getting to watch your fruits and vegetables like tomatoes, grow from seed all the way to harvest.
If you don't have much of an outdoor garden, indoor gardening is still an option.
Have kids choose pots or containers, then fill them with potting soil.
Choose easy vegetables for kids to grow.
Then water those seeds regularly.
This is how we grow beans indoors in the winter. It's all part of our hands-on homeschool science.
We also grow herbs indoors in our Aerogardens.
Whether you live in the country or a city apartment, you can start your indoor garden today and grow your own food to feed your family.
Raising other homestead animals
Raising animals in your backyard homestead is another favorite way to raise self-sufficient kids.
With patience, guidance, and hard work, kids can learn how to properly care for turkeys, rabbits, pigs, sheep, and quail.
It's a fun experience for them, and there are many great biology lessons to learn.
It also gives kids confidence, improves their self-esteem, and a sense of pride, knowing that they can take care of animals, and may even give them a chance to start their own business.
Raising backyard chickens
Raising backyard chickens is an easy and accessible way to teach children the valuable skill of self-sufficiency.
They could learn how to incubate and/or raise chicks into adult chickens. And they also get the reward of fresh eggs and meat, something that we've learned can be hard to come by and/or very expensive in an emergency.
When we started our backyard chicken flock, the kids took an online Outschool course in basic chicken care. Four years and many meat chickens and layers later, it was one of their favorite homeschool science courses.
Soapmaking
Soapmaking is just plain fun for our family. We stick to just a few simple ingredients, such as buy and pour goat milk soaps from Amazon, plus various flowers, herbs, etc.
Soapmaking with kids is a creative activity that can help them learn about natural ingredients, such as essential oils and vegetable oil, and the cleaning properties of local wild herbs and plants. Note: we do NOT make soap with lye…just yet. I'll wait until the two youngest kids are just a bit older to do that.
I'm on the lookout for a good course to use with them next year - I'll keep you posted!
Dehydrating food
Dehydrating is one of the easiest ways to teach children to think ahead and plan for the future. It's an excellent way to show your children how to avoid waste and prepare for future meals.
By drying food, kids can learn how to preserve ingredients they harvest from the garden or gather in their natural surroundings.
Plus, it's a fun activity that encourages creativity and offers a great opportunity for parents and kids alike to bond over something special and delicious.
With these step-by-step instructions, kids can learn how to dehydrate their own food in no time.
Baking
If you ask any of our kids, they'll say that baking together has been their favorite self-sufficiency lesson!
Simple recipes like carrot cake cookies, hardtack, and banana flaxseed bread are great for beginners. More advanced recipes like dutch oven blueberry bread and sandwich bread can be tackled as skills increase.
Baking together as a family is a delicious way to bond while teaching valuable life skills.
Outdoor gardening
Gardening is a practical way activity for self reliant kids because you can grow a low-maintenance garden while homeschooling.
Gardening with kids helps them spend more time outdoors and learn a very useful skill. Even with minimal effort, children will enjoy the satisfaction of growing their own food.
How to preserve food through canning or pickling
Are you ready to get started canning and pickling? If so, get your kids involved.
Preserving food is a rewarding, self-reliant skill that your kids can learn when they're elementary-school-aged.
Teach them how to make applesauce.
Or go berry picking, then make freezer raspberry jam.
And don't forget to make homemade pickles together.
Depending on the season and availability of produce, get your kids to think outside the box and come up with some unique combinations.
When kids learn how to can and preserve, they can put away healthy snacks for seasons to come.
They'll also gain a sense of accomplishment from knowing they did it themselves.
Start browsing recipes, get a good canning and preserving book. Then get started canning and preserving today.
How to start a small business
Teaching kids basic entrepreneurship skills is a wonderful way to cultivate self-reliance and independence.
As a child, I watched my grandmother launch a successful religious supplies business in the Toronto area, a company she ran until she was almost 90. It made such an impact on me!
With the right guidance and resources, I believe any child can learn how to start their own small business.
As I write this, two of our five adult children are supporting themselves with thriving small businesses they launched on their own.
And when our 40+ chickens produced more eggs than we needed, our sixth child sold seven to 10 dozen eggs weekly as her first small business venture.
It's an empowering experience that will help them create opportunities for themselves down the road. At the same time, they'll gain valuable knowledge about the business world.
Whether selling homemade goods or offering services to the community, they can learn how to develop a successful business plan and take the necessary steps to turn their vision into reality.
With a bit of patience and determination, your self reliant kids could have their first business up and running in no time.
Foraging as a family
Foraging is one of our favorite outdoor activities for kids for a whole bunch of reasons.
From wild herbs, mushrooms, fruits, and veggies - there are so many edible plants out there waiting to be discovered. Just remember to review safety when foraging with children.
Have your kids keep their eyes peeled for any edible wild plants they see - and take pictures to identify them later.
Then once you identify the plants, try getting creative in the kitchen and explore new recipes that use your newly-discovered goodies.
Learning how to forage can deepen your family's connection with nature while providing you with an opportunity to use foraging to teach in your homeschool.
Teaching Kids Self Reliance
Nothing is quite as rewarding as teaching kids the skills they need to be self-reliant, and these 30+ simple activities are just the tip of the iceberg.
From cooking to wilderness survival to basic first aid, kids will feel a huge sense of accomplishment when they can do things for themselves instead of relying on others as much.
Not only that, but it also allows for some precious time spent together outdoors and away from technology. And self-reliance activities for kids can happen at any time, even if you are not homeschoolers.
Take advantage of weekends, holidays or spring breaks to introduce your children to the wonders of self-reliance.
With practice, they'll soon be ready for more complicated chores and activities to help your family.
If you already are living off grid or aspiring to, what other self-reliance activities would you add to this list? Comment below to let me know!
Like this post? Save it for later!